So I have haven't been able to post more on my blog like I promised (like that's a surprise since I'm not usually very consistent) but now I definitely should be at least posting more often as I've now finished my second year of university and have a good few months to kill by doing all sorts of mostly spontaneous things. Anyway, that's my quick personal update done and now onto the contents of this post.
I usually do quite basic reviews of things like TV shows but today I decided I'd post about another popular show, How I Met Your Mother, and only discuss it in terms of some of the funny moments that occur in just its pilot episode. For me, deciding whether or not to commit to a TV series all comes down to my experience of the first episode, and doing this means you can have a real taste of the show with minimal risk of exposure to spoilers (hopefully!) These GIFs not only tell you a little bit about the storyline of the episode, and what to expect from the show as a whole, it mostly gives great insight into the characters, their relationships and the type of humour and series HIMYM is. Also, it's a good way for me to actually keep on writing these kinds of posts.
1) First, we meet Ted's kids
The pilot opens with the main character, Ted Mosby, sat down with his children about to tell them about how he met their mother. Not only does this opening make it quickly obvious to readers what the show is centred around (supposedly) but it also introduces us their different characters well and with slight humour which is carried out throughout the episode and the entire series.
2) Ted and Marshall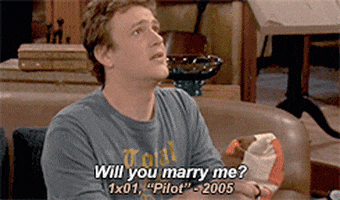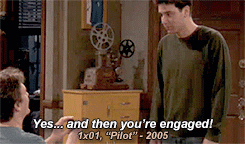 This is the first time we meet the characters of Ted and Marshall and get an immediate sense of their relationship.
3) Barney's character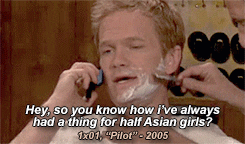 When Ted calls Barney, his personality is shown straight away and regardless of what you think about him, he is nonetheless an amazing character to watch and has some great lines.
4) Have you met Ted?
This phrase becomes one of the many famous ones to become attached to the show, it is often used by one of Ted's friends to get him to talk to a woman when he's too busy overthinking to make a move himself.
5) Marshall and Lily
This funny scene happens after Marshall accidentally hits Lily's eye with a cork from a bottle of champagne.
6) Ted's mistake
Ted says and does things like this time and time again throughout the show and it never fails to get a laugh while simultaneously cringing and feeling sorry for him.
7) The Kiss Debate
The group have a debate as to whether or not Ted should have kissed Robin and this is Barney's response (he should have kissed her!)
8) Barney kisses Marshall
9) Barney's Excitement 
10) The Blue French Horn
There are many other amazing moments that happen in the episode but I wanted to end my post on this. The blue french horn becomes one of the show's iconic symbols. Ted steals it from the restaurant for Robin after they see it in the restaurant of their first date after Robin mentions she wants it after Ted compares it to 'smurf penis' and made her laugh.
That's all for my post today, if you found these GIFs funny then maybe check out the series and watch a couple episodes. I will probably do a list of my favourite episodes in the near future once I cut that list down so look out for that if you liked this post.